Digging Dinos - Kids Dinosaur Shoes
Rawr—calling all paleontologists in training! Unearth hidden fossils with the help of our terrific green dinosaur slip-on shoes. Our dinosaur sneakers were designed with science in mind so that curious kiddos are inspired to ask questions, explore, and dig for the truth—and more fossils! Choose from toddler, kids, and youth sizes. Our shoes are a hit with girls and boys alike.
Our Shoes Run Large - Review Our Size Guide

Regular price

Sale price

$39.00
Free Shipping on all Orders Over $50.00 + Free Returns

Why You'll Love Our Dinosaur Sneakers
Our dino shoes make morning routines easy…and more fun! Here's what you (and your kids!) will love about our shoes:
Easy slip-on design with no-tie flex laces & pull tabs
Durable, water-resistant, lightweight & breathable
Colored soles that hide dirt & clean up effortlessly
Iconic shiny stripes that add eye-catching flair to every pair of shoes
A pattern that includes all your dinosaur favorites, like T-Rex, Stegosaurus, Triceratops, and Pterodactyls
A shoebox that doubles as a fold-out gameboard with a custom deck of science-themed playing cards
Money-back guarantee: If you are unhappy with your Kazoom Kids purchase for any reason, you can return or exchange unused items within 30 days of the date of purchase.
Money Back Guarantee

If you are unhappy with your Kazoom Kids purchase for any reason, you can return or exchange unused items within 30 days of the date of purchase.
Shipping & Returns

Shipping Information

We offer standard shipping to the 48 contiguous United States and the District of Columbia. Orders above $55.00 receive free standard shipping and returns shipped within the continental United States. For orders below $55.00, there is a $5.99 standard shipping fee.

For Alaska and Hawaii, orders less than $50.00 have a standard shipping fee of $6.99. Orders above $50.00, have a standard shipping fee of $12.99. 

Orders are shipped within 1-3 business days of when the order is placed. For free standard shipping, orders are expected to arrive within 3-7 business days.

Once your order is shipped, an email confirmation will be sent which will include a shipping confirmation with your tracking number. Please note, carriers may not update tracking information immediately. 

Returns 

If you are unhappy with your Kazoom Kids purchase for any reason, you can return or exchange unused items, in their original condition, within 30 days of the date of purchase. All items must be unworn, unwashed, and the original packaging must be intact. Please note, footwear should be tested on carpeted surfaces only. 

Please contact: Returns@KazoomKids.com to begin the return process. We must receive your return within 30 days of the original order date. Returns will be processed within 5-7 business days from receipt. 

If you feel you have received a damaged or defective item, do not initiate a return. Please contact us at: Support@KazoomKids.com

Customer Support 

For customer support inquiries, please contact us at: Support@KazoomKids.com

For press and all other inquiries, please contact us at: Hello@KazoomKids.com
Materials

Upper - 100% Lycra
Upper Trim - 100% PU
Lining - 100% Jersey Spandex 
Outsole - 100% TPR
Care Instructions

Hand wash only with gentle detergent specific for hand washed garments. Gently rub dirty spots with your hands (no abrasive sponges or cloths). Air dry only.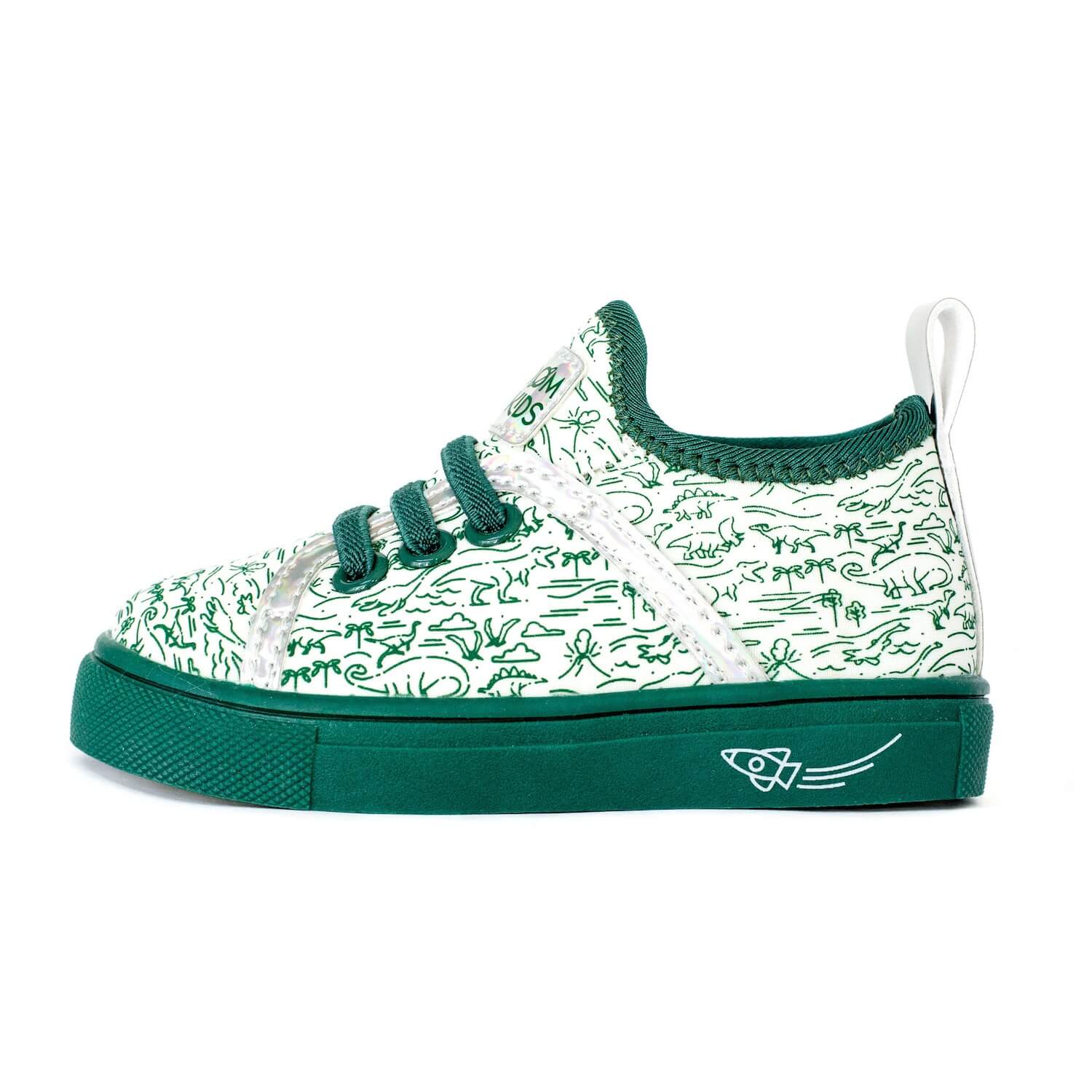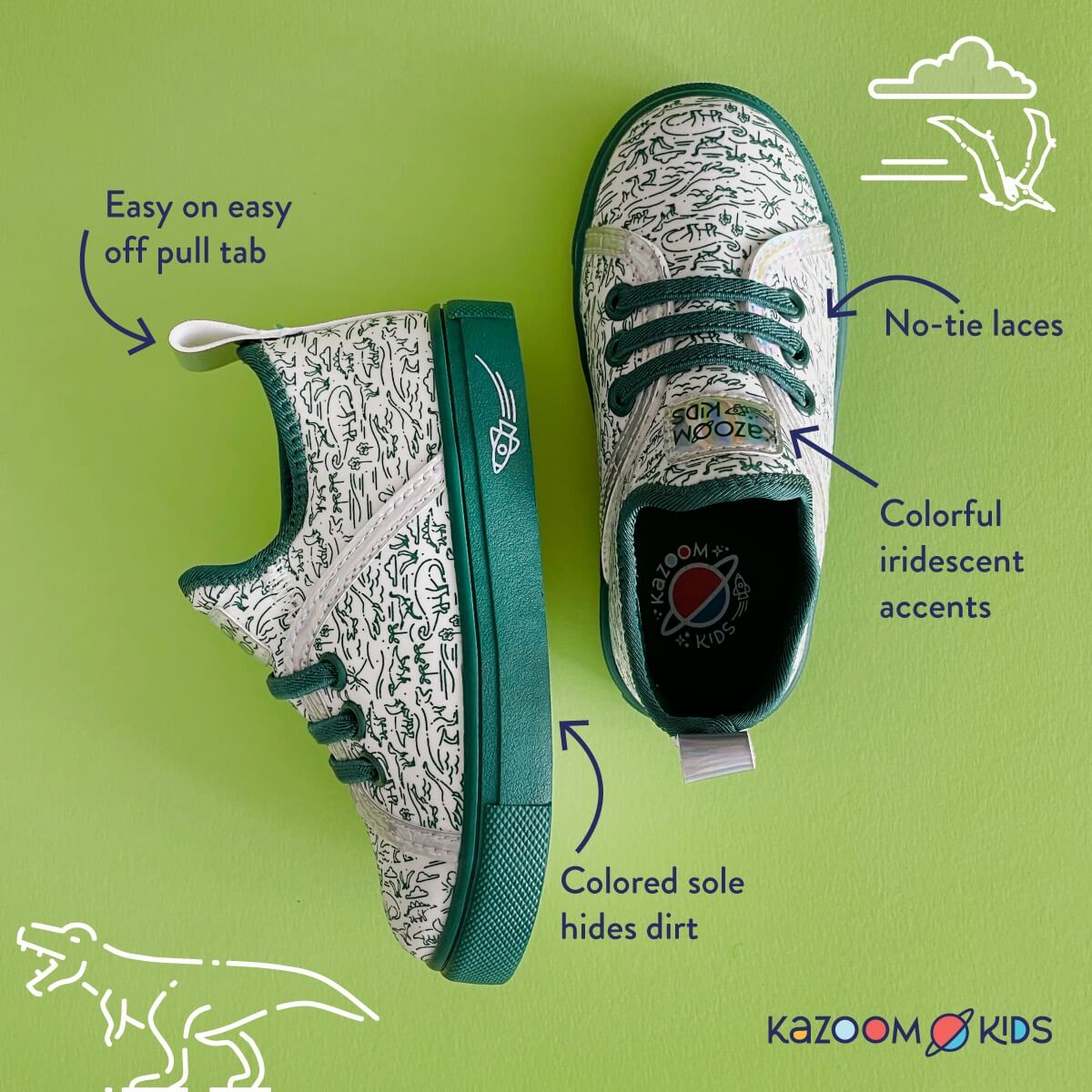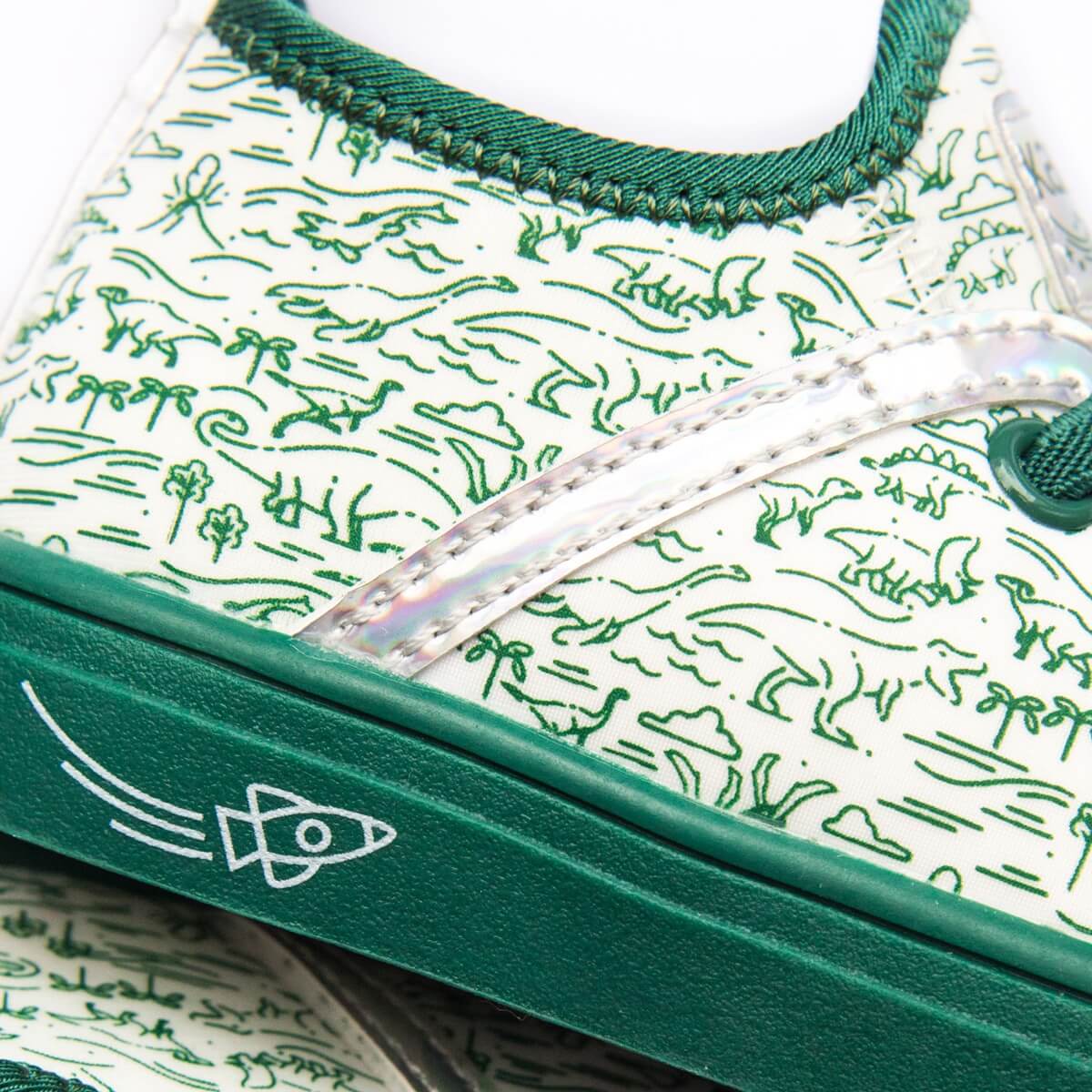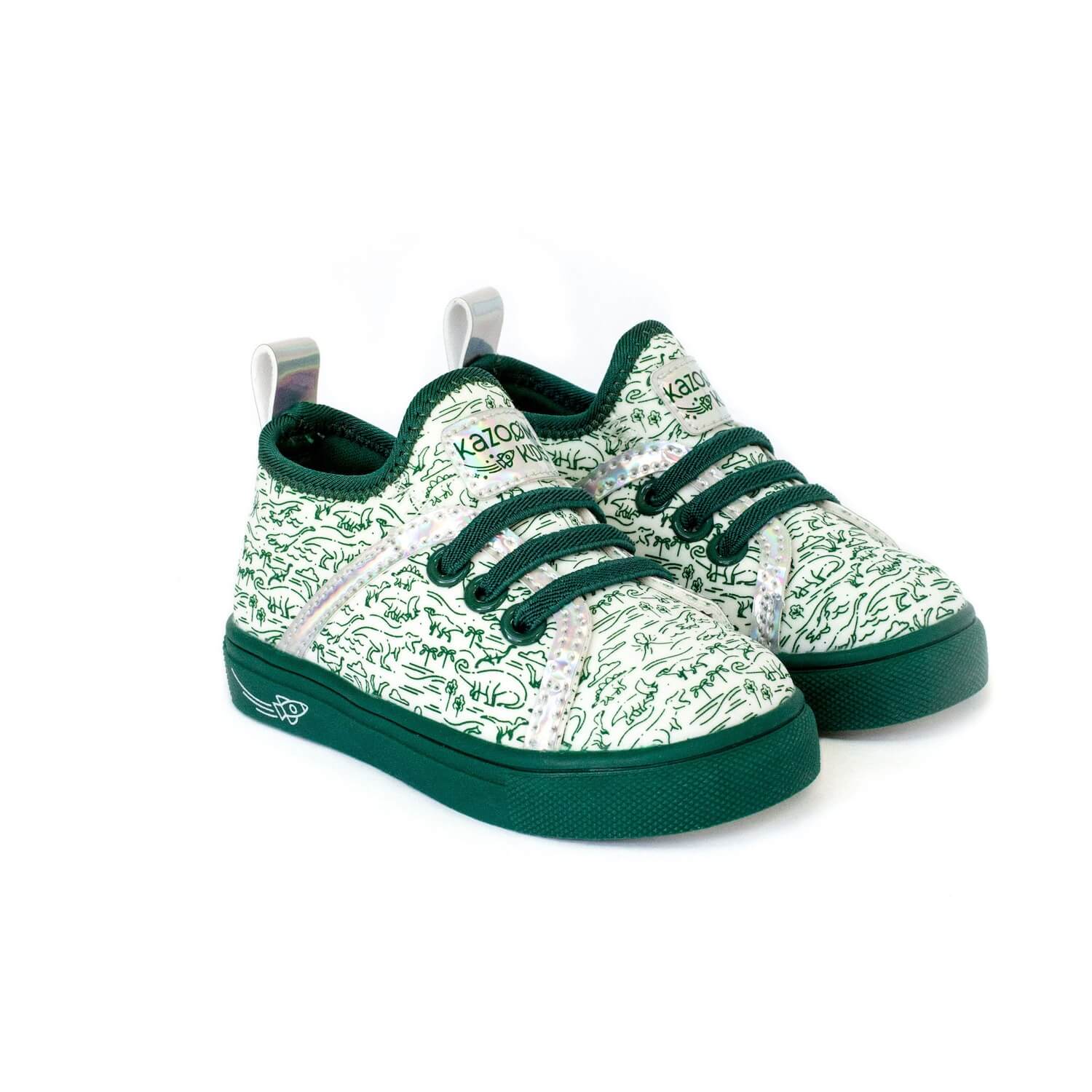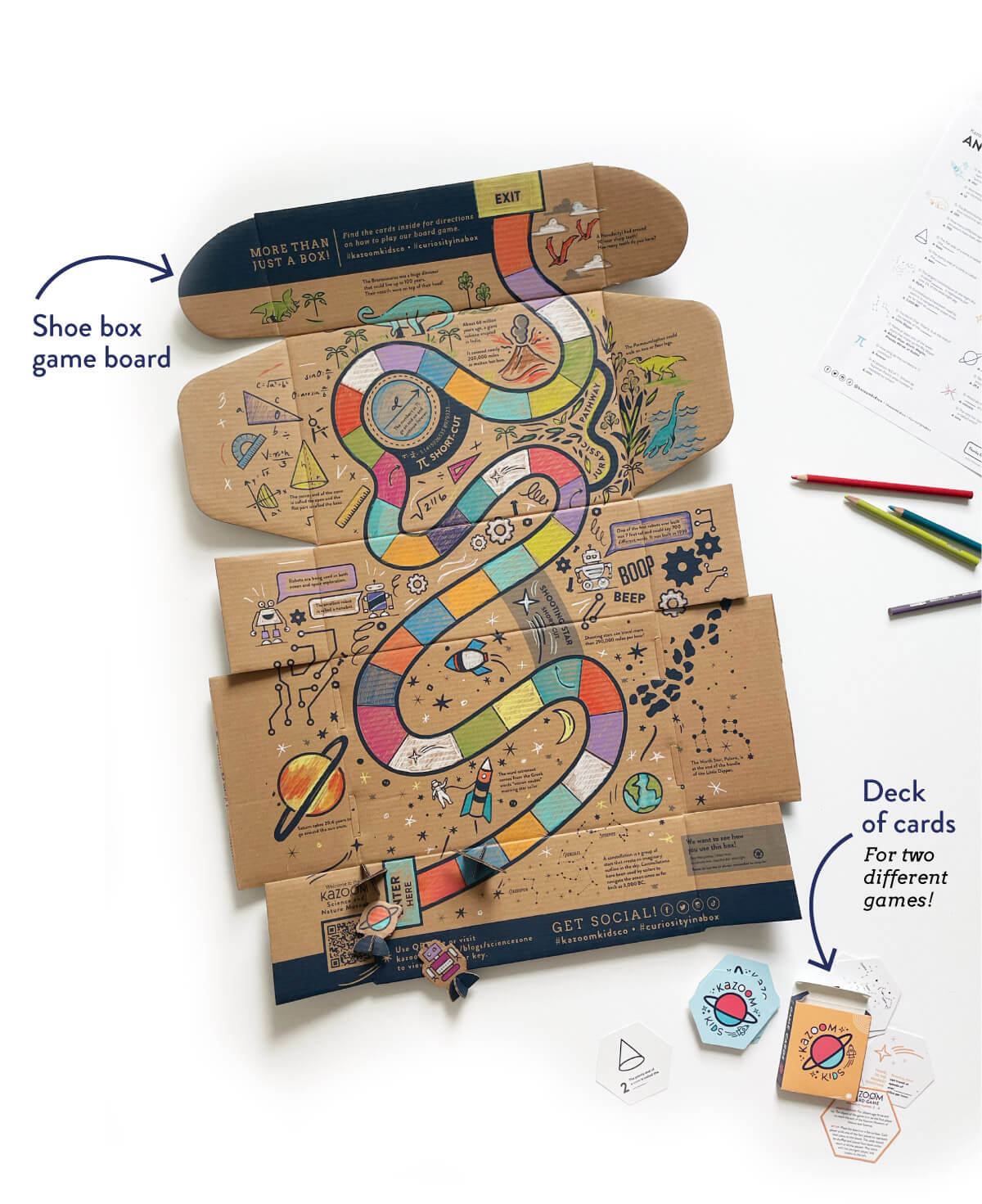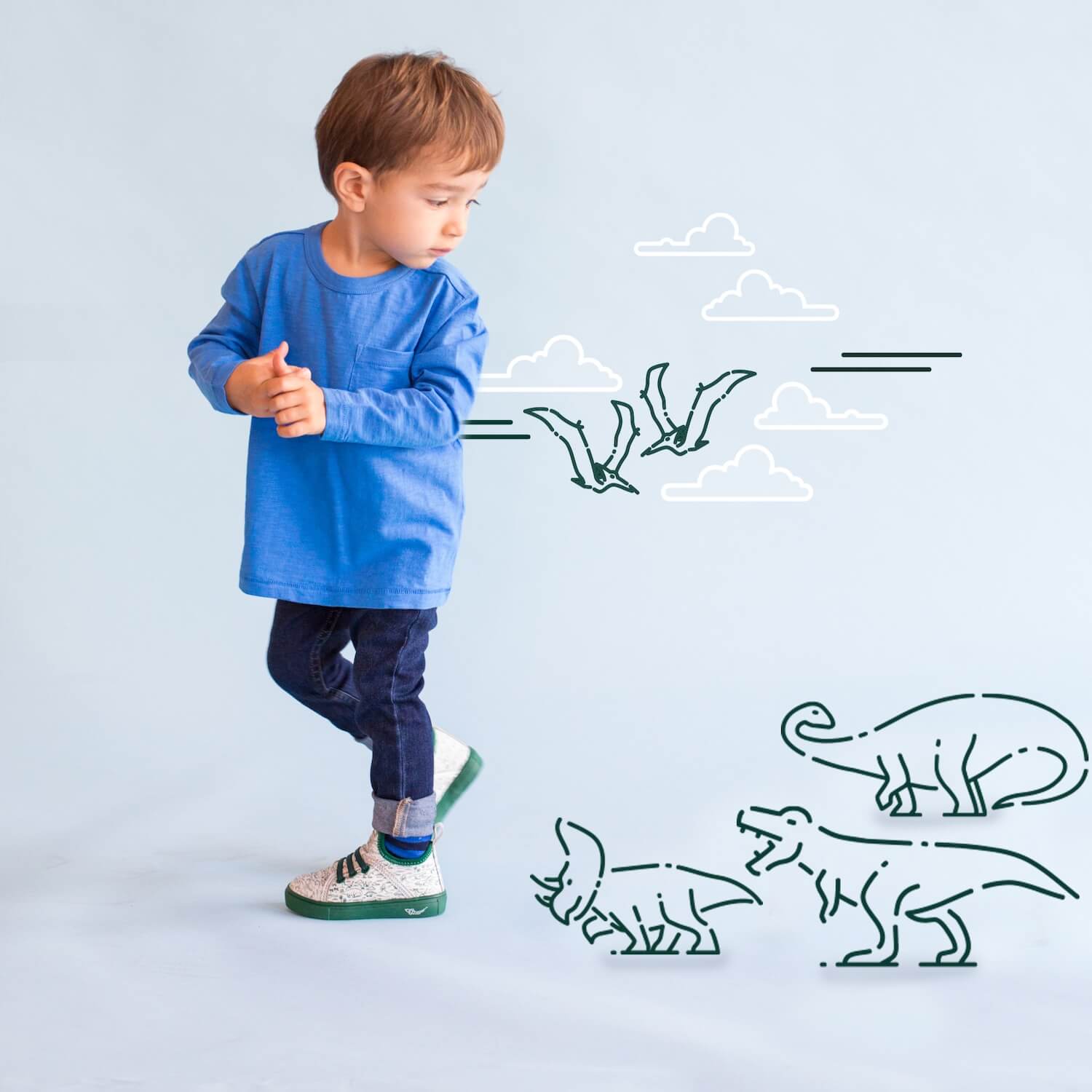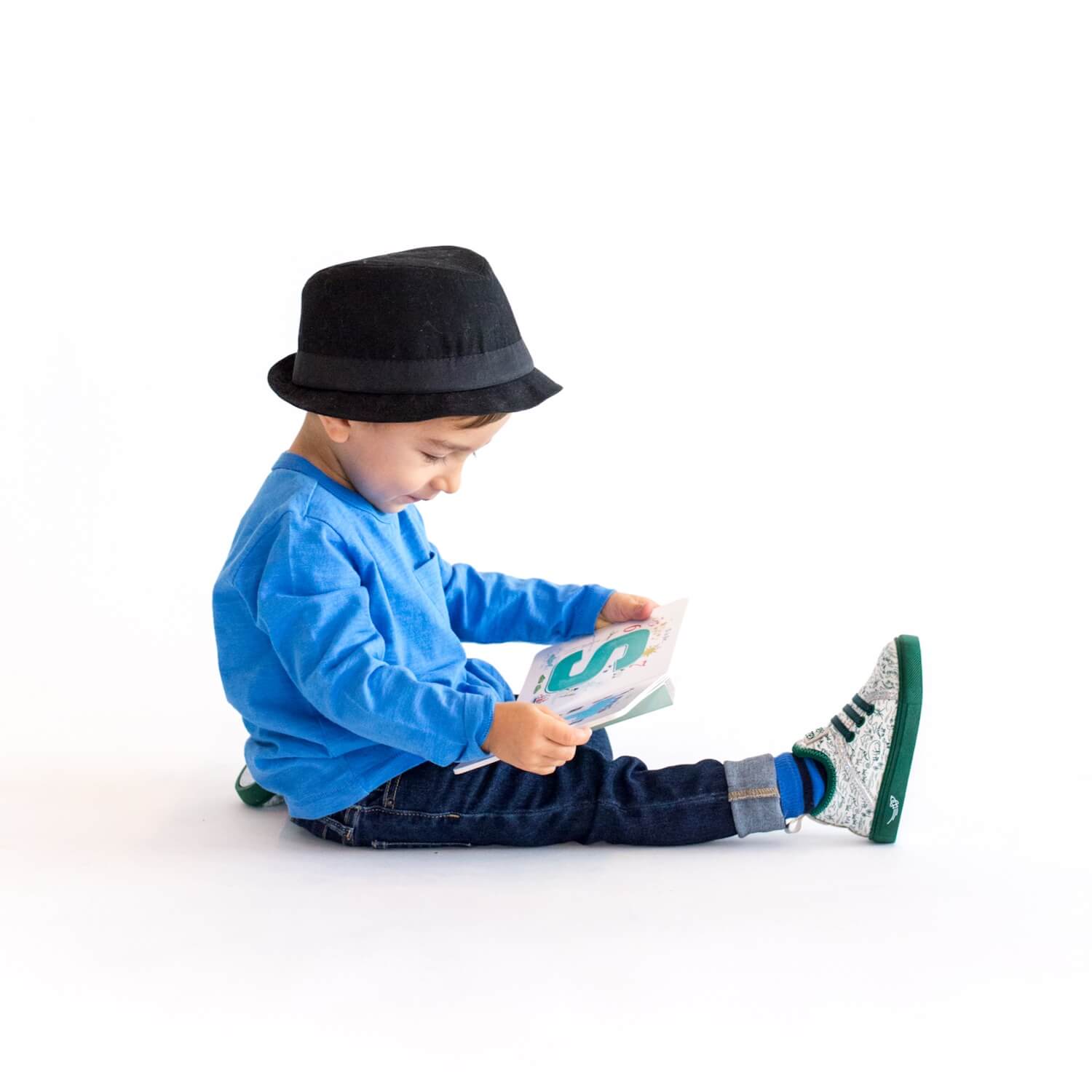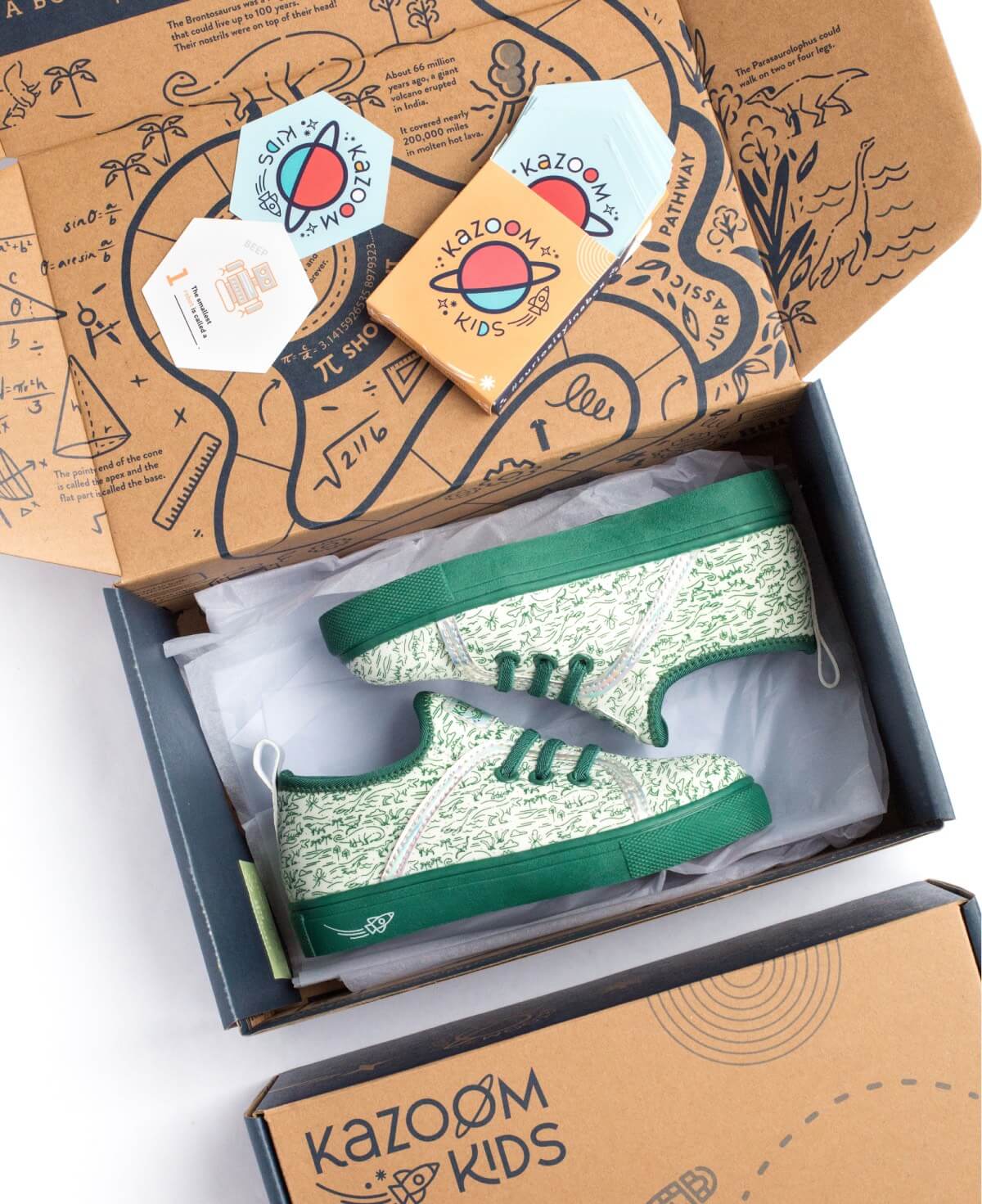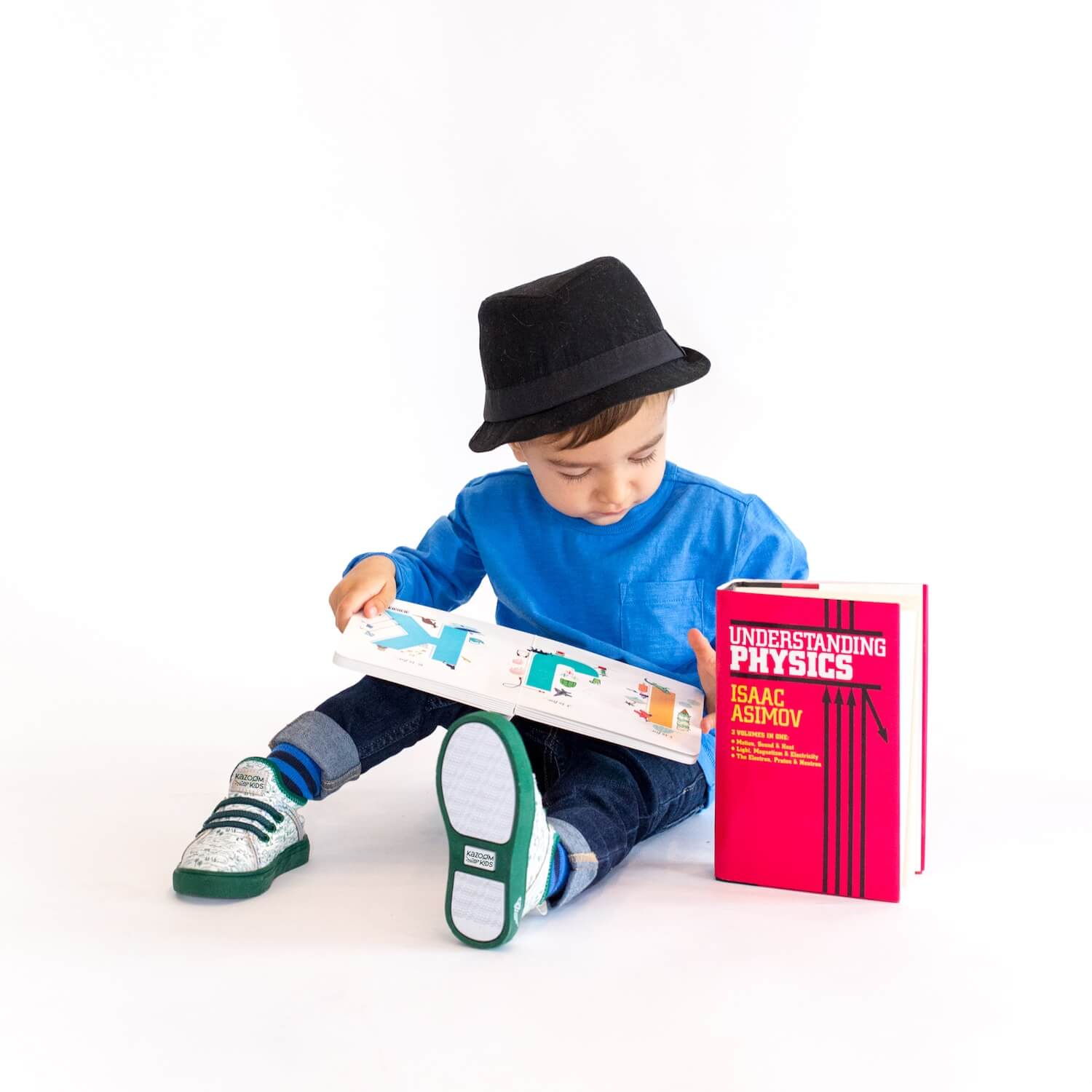 Sizing Help
You already know your child is unique–so is their shoe size. Given the unique nature of growth, your child's feet may be bigger or smaller than what is considered average, and your kids sock sizes and shoe sizes can change rapidly as they grow. With this in mind, our shoe sizes run a bit large, giving your little ones just enough wiggle room to grow into their shoes. 
If you need help determining your child's sock and shoe size, read below for tips on properly measuring your kids' feet.
Dinosaur Socks - A Prehistoric Pair of Kids Socks
Regular price

Sale price

$4.00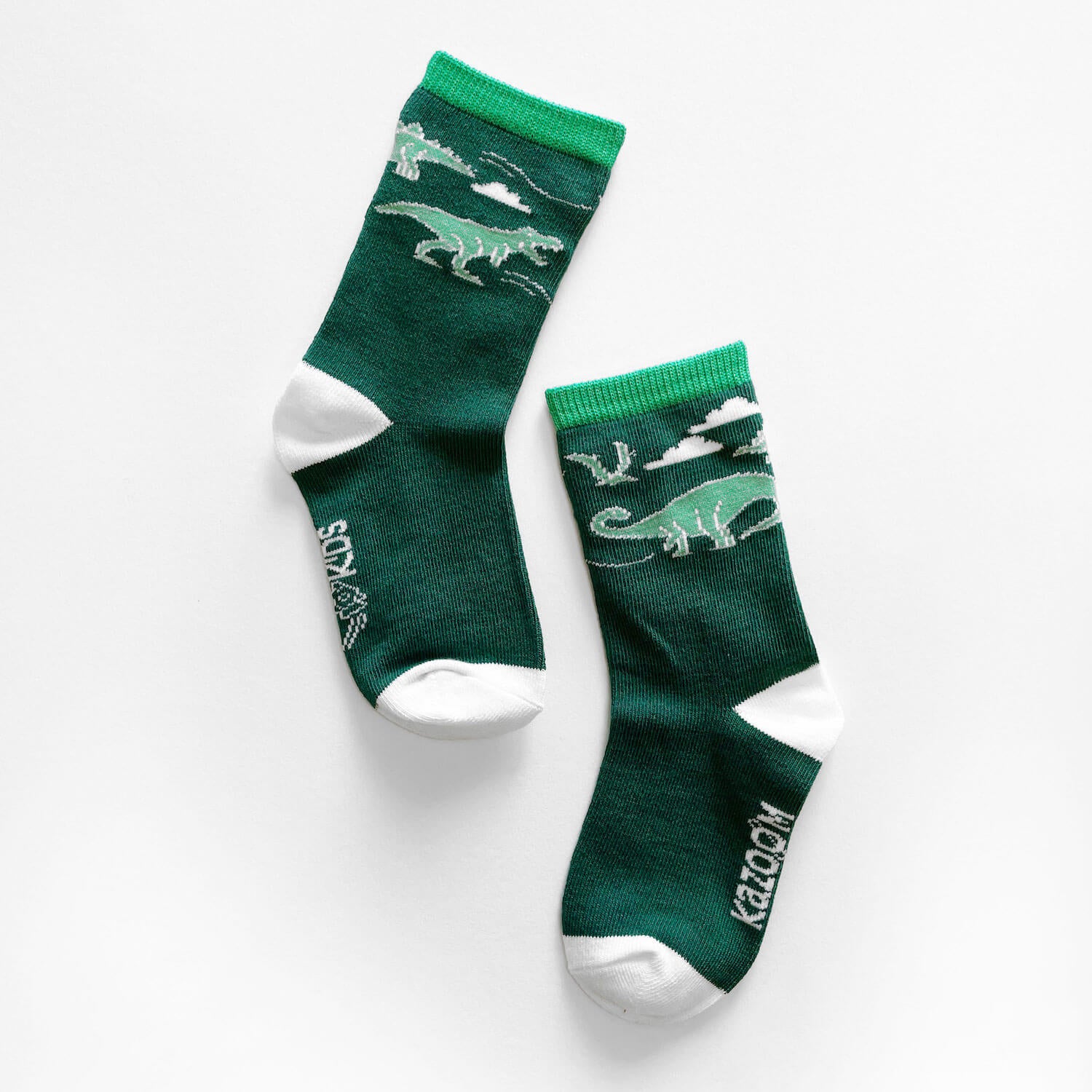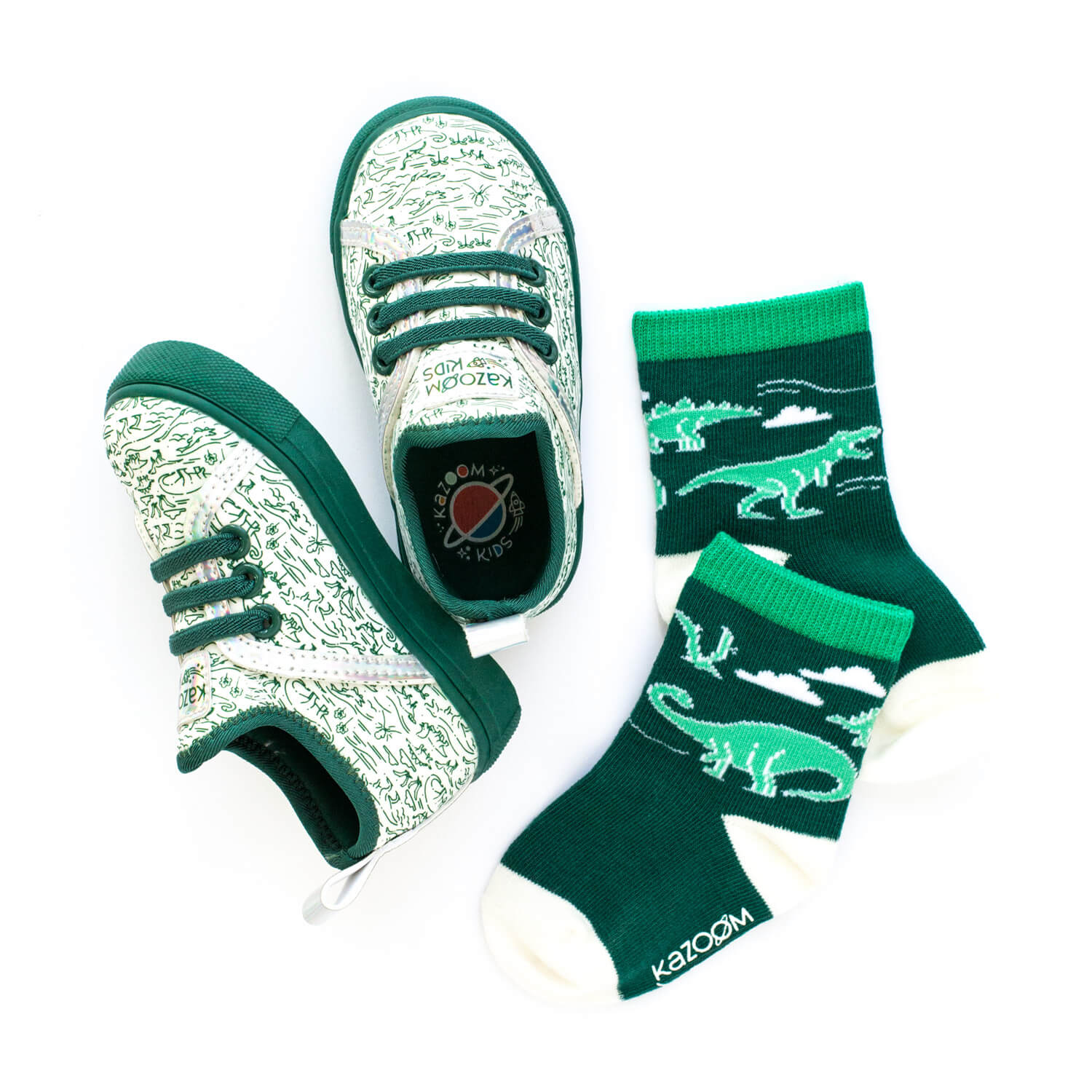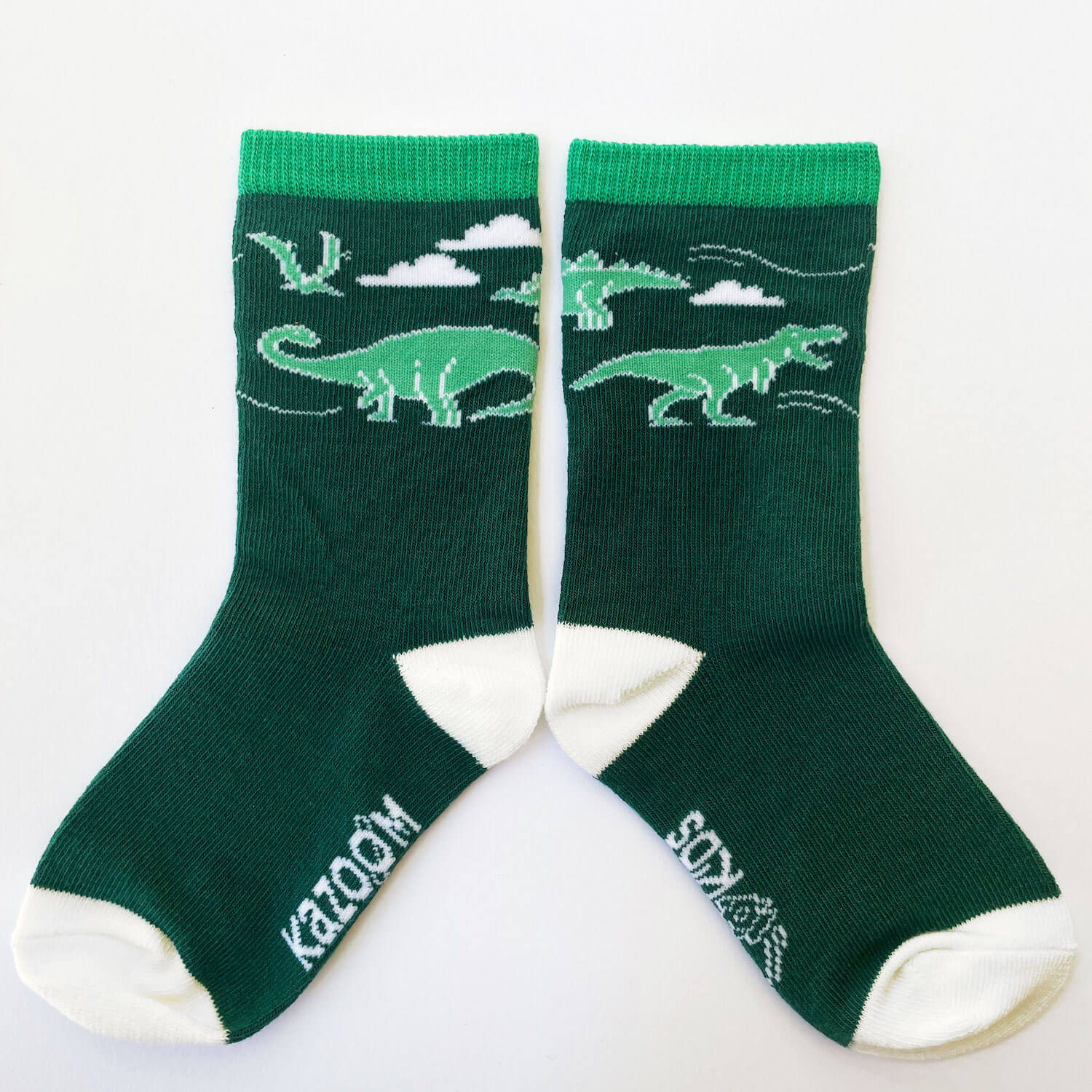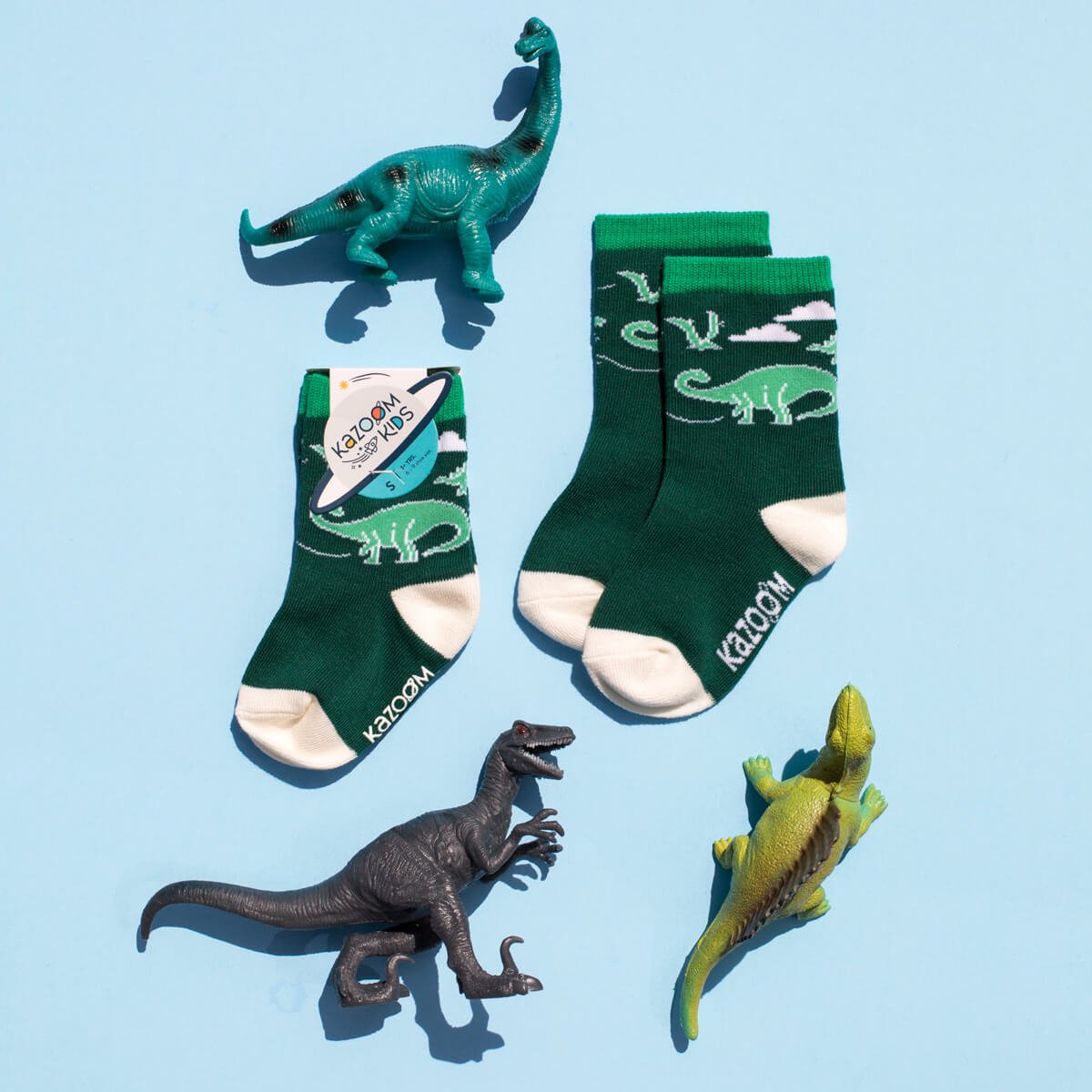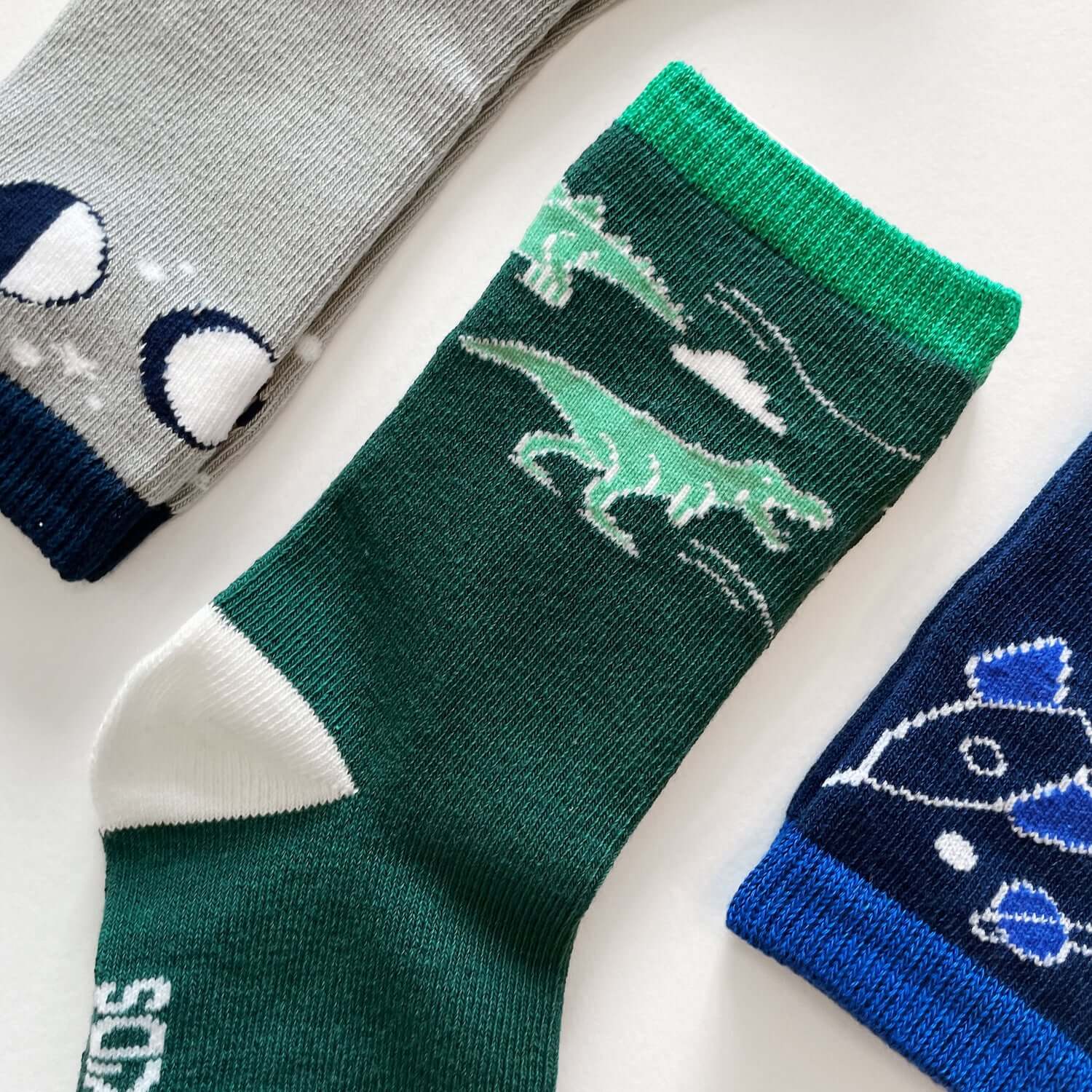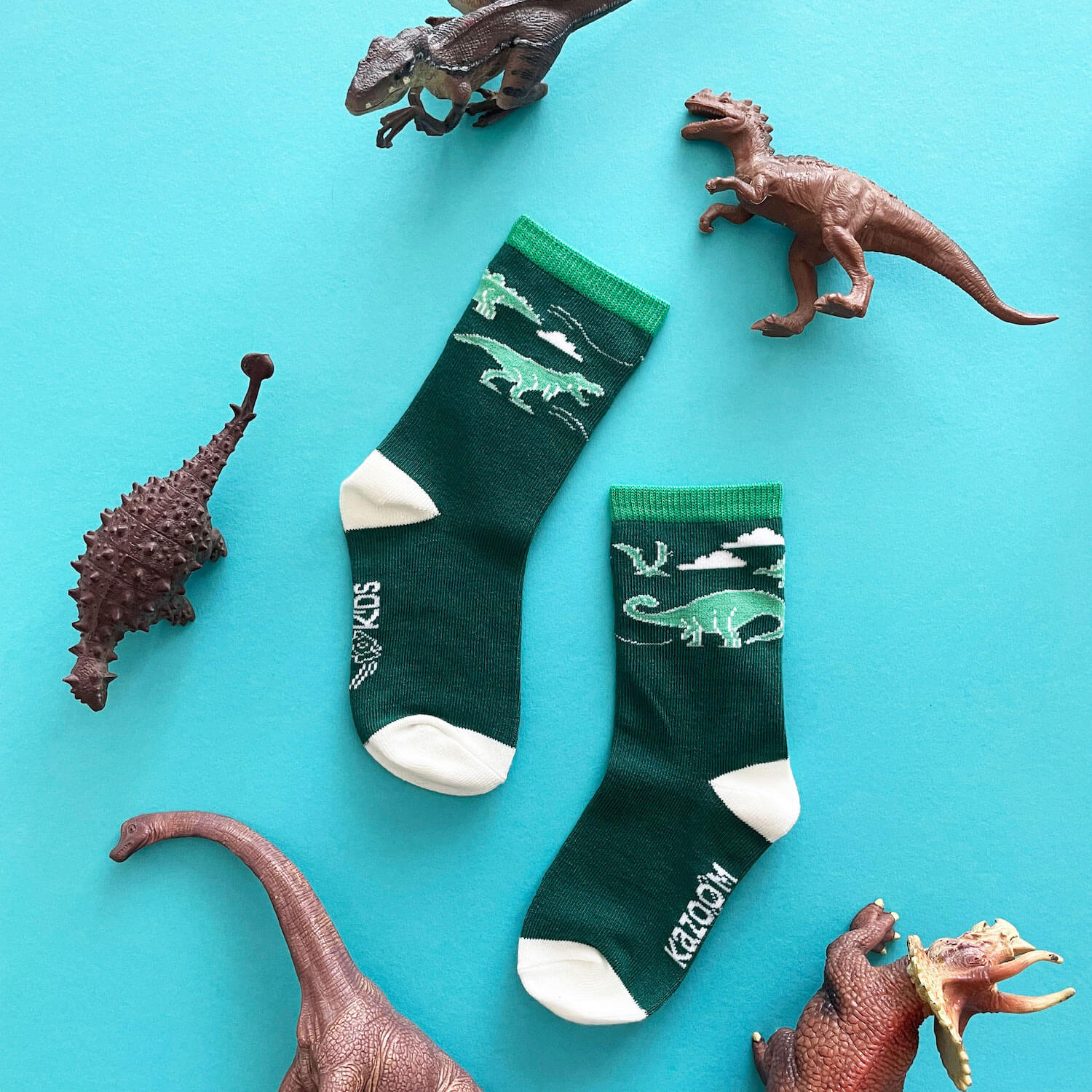 Fun Dinosaur Fact
Although there were several hundred different species of dinosaurs, they can be separated into two main groups. One group had lizard-like hip bones that pointed forward, like T. Rex. The other group had birdlike hip bones that pointed backwards, including Stegosaurus. Think of all the amazing dinosaurs your little one will explore while wearing our dinosaur sneakers!
Why STEM Matters
STEM (science, technology, engineering, and math) concepts explain how the natural world works. By teaching kids about science at an early age, they develop a deeper understanding of the why and how behind some of life's most fascinating (and crucial) questions. Help your kids stay curious with science-themed apparel, games, and activities that foster their natural sense of curiosity and inclination to explore the world around them.
Ready to learn? Browse our Science Zone for age-appropriate simple science activities you and your curious kiddos can explore together.
Step Into Science With Kazoom Kids
Kazoom Kids is on a mission to help encourage your child's curiosity with vibrant and engaging science-themed kids shoes online. By exposing them to science at a young age, we encourage children to explore, innovate, and ask important questions. Our STEM-inspired designs include constellations, math equations, dinosaurs, and more. The world is full of wonder, and every child deserves the opportunity to ask questions and explore the world around them.
Why Kids Dig Our Dinosaur Sneakers
Free Shipping Over $50

Enjoy Free Shipping when you spend over $50 (Continental USA only).

Friendly Customer Support

Have some questions about our products? Get in Touch with our Friendly Support Team.

30 Days Returns

Unsatisfied with your purchase? Return it within 30 days for a full refund.