STEM Footwear for Kids
Kazoom Kids makes learning fun, with science-themed shoes and socks that inspire curiosity and encourage kids to become lifelong learners.
The Cutest Kids Shoes Online
Vibrant and unique, our kids' play shoes are perfect for boys and girls who are deeply curious about the world. Plus, they're extra comfortable and durable so your little ones can wear them for any activity.
Lightweight and Durable
Our science-pattern shoes are made with specialized fabrics that are both durable and lightweight; qualities that are especially important for the comfort and longevity of kids shoes.
Resists Dirt and Cleans up Quickly
We designed our shoes using dirt resistant fabrics that clean up easily, along with stylish colored soles that hide dirt so shoes look newer for longer.
Water Resistant
Our specialized materials resist water, wash up easily, and dry quickly, unlike other kids shoes online, which are often made from leather or canvas.
What Our Customers Are Saying
Kazoom Kids play shoes are the go-to choice for parents who love the easy slip-on design and for curious kids who love the vibrant colors and STEM-inspired patterns.

My 4 yr old son has Rockets, Robots and Math Equations! He likes to mix and match a different shoe on each foot for the day. Also, these are the first shoes he can put on by himself.  Amazing product!

Erin, CA
We couldn't be happier with our first ever Kazoom Kids purchase!!  I received a shipping notification on the same day I ordered and received the package three days later. The packaging was perfect with recyclable materials and a box that doubled as a board game. Someone paid attention to every detail and it was both noticed and appreciated. The products themselves were equally impressive.  I can't wait to order again. We are definitely going to be repeat customers!!

Amanda, AK
My son loves his Do the Math shoes! He can easily put them on and off by himself, which he's really proud of. The design is adorable and we've already ordered the Robot version as well. I'm excited to add more designs to our collection when he needs a bigger pair!

Jackie, CA
My daughter can't get enough of her Byte-sized Bots Shoes! The robot pattern is so adorable! We just love the dark purple iridescent edging! So fun and special! I love the colored and speckled sole too. She's been wearing them for weeks and still looks like a fresh pair of shoes.

Laura, CO
The constellation shoes are a great way for my 6-year-old to show off his love for space. Plus, he loves how lightweight they feel compared to other sneakers he's worn. As a mom, I love that the shoes are easy to clean and have stood up well to everything my kids have put them through. The details — even down to the shoe box that is also a game — show the level of thought that went not these shoes. 

Maria, IA
The Do the Math shoes are my daughter's favorite shoes. She wears them daily, and they show no signs of wear. The design is really eye-catching, so we constantly get asked by both kids and adults where we purchased them. They really are five star shoes!

Pamela, CA
I just love your amazing, brilliant, and creative shoe and sock products. My grandchildren love their bright, colorful, and delightful new shoes and socks. The excitement started with the amazing shoe box. They opened up the box to a bright new world of science learning adventures. These science themed shoes and socks are fantastic. The kids loved coloring and designing their new science board game. They love learning all about space and dinosaurs. They also look great in their colorful shoes and socks. Thank you for your fantastic products.

Elizabeth, CA
My very independent 4-year-old loves her Kazooms because they're so easy to slip on and off herself. She was drawn to the purple color at first, but now they're known in our house as the robot shoes. It's so fun seeing that she's just as excited to wear robots as she is unicorns, princesses and mermaids.

Maria, IA
No Hassle Slip-On Design

Kazoom Kids shoes have been engineered for quick and simple foot entry using stylish no-tie flex-laces, easy pull tabs, and elastic fabrics for an effortless slip on design.

Stylish High-Top Design

Our stylish high top shoe designs have colorful iridescent stripes that add a fashionable flare to every pair of shoes. Your little ones will absolutely love our six different science-pattern shoes.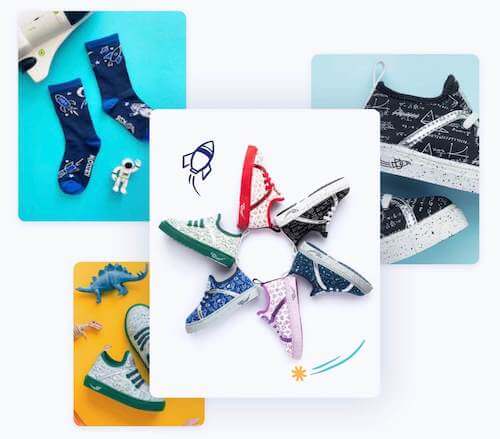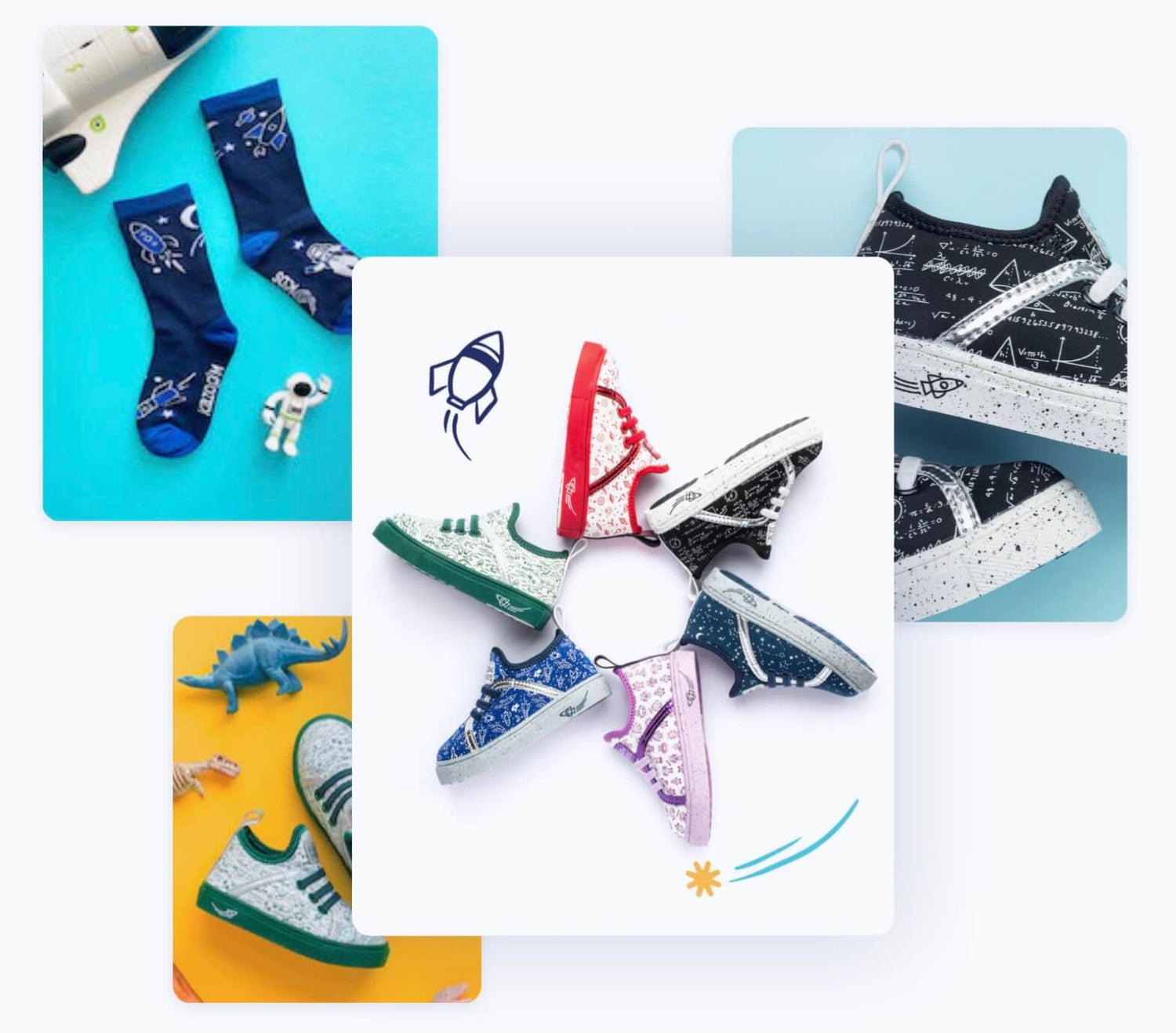 Inspiring Curiosity
At Kazoom Kids, we believe that providing early exposure to science and an understanding of how the world works is fundamental to creating a life-long love of learning in all children. Our stylish and colorful selection of science-themed online kids shoes nurture our children's innate curiosity and natural desire to explore, innovate, and discover the world around them.
Learn More About US
Kazoom Kids Socks With Matching Science Themes
Our STEM-themed shoes pair perfectly with our science-inspired socks. Our socks are designed to be comfortable and soft and to fit your child's foot perfectly for hours of fun. Featuring robot symbols and dinosaur designs, your kiddos will love showing off their socks every day.
Connect With Us on Instagram
Follow us on social media to view our kids shoes online and fun STEM-inspired products.